Mijn Werk
Smoelenboek
De volgende mensen heb ik ontmoet in het kader van mijn werk bij de Universiteit van Santa Cruz
Manfred K. Warmuth De professor die mij hier begeleidt. Goeroe op het gebied van on-line learning. Zijn cactussen vermenigvuldigen zich als konijnen, en zijn konijnen groeien als kool.
Nie Jiazhong PhD. student van Manfred. Een feest om mee samen te werken.
Imre Risi Kondor Kwam een praatje geven over non-commutative Fourier transformaties, met als toepassing kansverdelingen over permutaties.
S.V.N. Vishwanathan Kwam discussieren over graphical models en benaderingen die gebruikt worden in toepassingen.
David Helmbold Collega van Manfred.
Jake Abernethy Co-auteur van Manfred in het paper dat de optimale strategie in de Hedge setting beschrijft. Kwam discussieren over gerelateerde minimax problemen.
Jyrki Kivinen Een van de founding fathers van on-line learning. Is zes maanden op sabattical hier aan de UCSC.
Karen Glocer Manfred Warmuth's student. Bijna afgestudeerd.
Maya Hristakeva Manfred Warmuth's student. Werkt part-time voor een bedrijf dat optische glucosemeters maakt voor diabeten.
Damian Eads David Helmbold's student.
Shuisheng Zhou
Manfred Warmuth's student.
Anna Povzner Scott Brandt's (de Storage professor) student.
Arthur van Benthem Promovendus in de economie te Stanford. Getrouwd met Siemone Griffioen. Samen gaven ze me een rondleiding over de campus daar.
Petert Bartlett Professor in statistiek en informatica aan de Universiteit van California te Berkeley.
Literatuur
Deze artikelen zijn mijn leesvoer:
David P. Helmbold and Manfred K. Warmuth. Learning permutations with exponential weights. Journal of Machine Learning Research, 10:1705-1736, July 2009. [ .pdf ]
Jonathan Huang, Carlos Guestrin, and Leonidas Guibas. Fourier theoretic probabilistic inference over permutations. Journal of Machine Learning Research, 10:997-1070, 2009. [ .pdf ]
Manfred Warmuth and Dima Kuzmin. Bayesian generalized probability calculus for density matrices. Machine Learning, 2009. [ DOI ]
N. Cesa-Bianchi and G. Lugosi. Combinatorial bandits. In Proceedings of the 22nd Annual Conference on Learning Theory, 2009. [ .pdf ]
Manfred K. Warmuth and Dima Kuzmin. Randomized online PCA algorithms with regret bounds that are logarithmic in the dimension. Journal of Machine Learning Research, 9:2287-2320, October 2008. [ .pdf ]
Jacob Abernethy, Manfred K. Warmuth, and Joel Yellin. Optimal strategies for random walks. In Proceedings of The 21st Annual Conference on Learning Theory, July 2008. [ .pdf ]
Geoffrey J. Gordon, Amy Greenwald, and Casey Marks. No-regret learning in convex games. In ICML '08: Proceedings of the 25th international conference on Machine learning, pages 360-367, New York, NY, USA, 2008. ACM. [ DOI ]
Terry Koo, Amir Globerson, Xavier Carreras, and Michael Collins. Structured prediction models via the matrix-tree theorem. In Proceedings of the 2007 Joint Conference on Empirical Methods in Natural Language Processing and Computational Natural Language Learning (EMNLP-CoNLL), pages 141-150, 2007. [ http ]
Jan Poland. Algorithmic Learning Theory, volume 4264/2006 of Lecture Notes in Computer Science, chapter The Missing Consistency Theorem for Bayesian Learning: Stochastic Model Selection, pages 259-273. Springer Berlin / Heidelberg, 2006.
Marcus Hutter and Jan Poland. Adaptive online prediction by following the perturbed leader. Journal of Machine Learning Research, 6:639-660, April 2005. [ .pdf | .html | .pdf | http | http ]
Adam Kalai and Santosh Vempala. Efficient algorithms for online decision problems. J. Comput. Syst. Sci., 71(3):291-307, 2005. [ DOI ]
Arindam Banerjee, Srujana Merugu, Inderjit S. Dhillon, and Joydeep Ghosh. Clustering with bregman divergences. Journal of Machine Learning Research, 6:1705-1749, 2005. [ .pdf ]
Mark Jerrum, Alistair Sinclair, and Eric Vigoda. A polynomial-time approximation algorithm for the permanent of a matrix with nonnegative entries. J. ACM, 51(4):671-697, 2004. [ DOI ]
Eiji Takimoto and Manfred K. Warmuth. Path kernels and multiplicative updates. Journal of Machine Learning Research, 4:773-818, 2003. [ .ps ]
Katy S. Azoury and M. K. Warmuth. Relative loss bounds for on-line density estimation with the exponential family of distributions. Machine Learning, 43(3):211-246, 2001. [ DOI ]
M. Mosbah and N. Saheb. Non-uniform random spanning trees on weighted graphs. Theoretical Computer Science, 218(2):263-271, May 1999. [ DOI ]
Thomas L. Magnanti and Laurence A. Wolsey. Optimal trees. In M. Ball, T. L. Magnanti, C. L. Monma, and G. L. Nemhauser, editors, Network Models, volume 7 of Handbooks in Operations Research and Management Science, pages 503-615. North-Holland, 1995. [ http ]
A. Broder. Generating random spanning trees. In SFCS '89: Proceedings of the 30th Annual Symposium on Foundations of Computer Science, pages 442-447, Washington, DC, USA, 1989. IEEE Computer Society. [ DOI ]
Dan Gusfield. Connectivity and edge-disjoint spanning trees. Information Processing Letters, 16(2):87-89, 1983. [ DOI ]
Wouter's belevenissen in Santa Cruz 2012 (b)
19 December
Graeme (links) heeft sterke magneten, en daar kun je een Gauss rifle mee bouwen. De groeven tussen het parket zijn ideaal als geleider voor de afgeschoten kogellagers.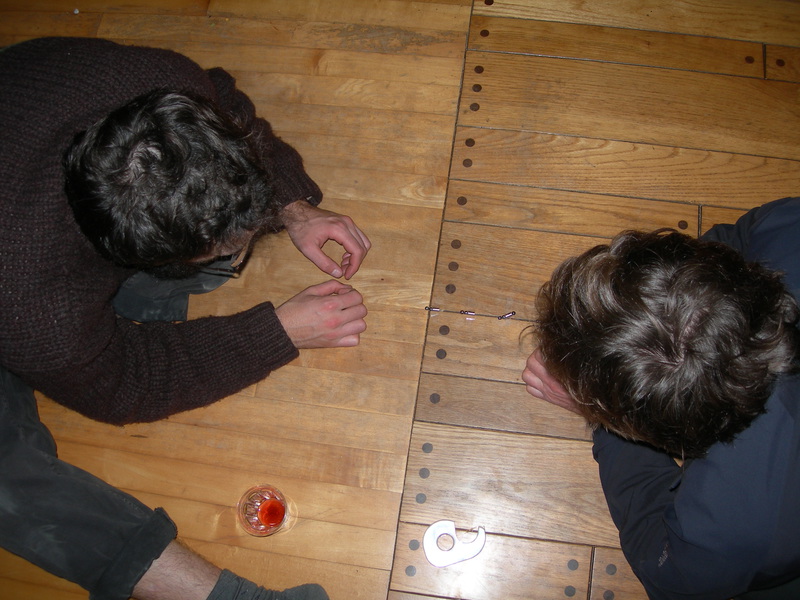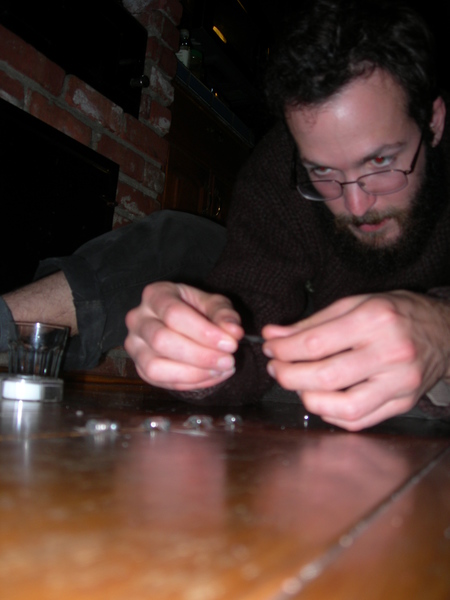 18 December
Nie Jiazhong is een PhD. student van Manfred. Manfred wil hem graag advancen, want dan valt hij in een andere categorie en hoeft Manfred minder tuition te betalen. En natuurlijk is het ook tijd, want hij is er rijp voor.
Het advancement exam van Nie Jiazhong is morgen. Ik zit in de commissie als externe expert. Normaal moet de commissie 30 dagen vantevoren worden voorgelegd aan de graduate committee. Maar Manfred zet zijn charme in, belt wat rond, legt wat bezoekjes af, en weet het in 1 dag te regelen (!).
Moet wel bij gezegd worden dat een vorig commissievoorstel eerder is goedgekeurd, met Wojtek Kotłowski in mijn plek. Zelfde initialen :)
Hier legt Nie de laatste hand aan zijn document. Hij beschrijft wat hij de aankomende twee a drie jaar zal gaan ontdekken.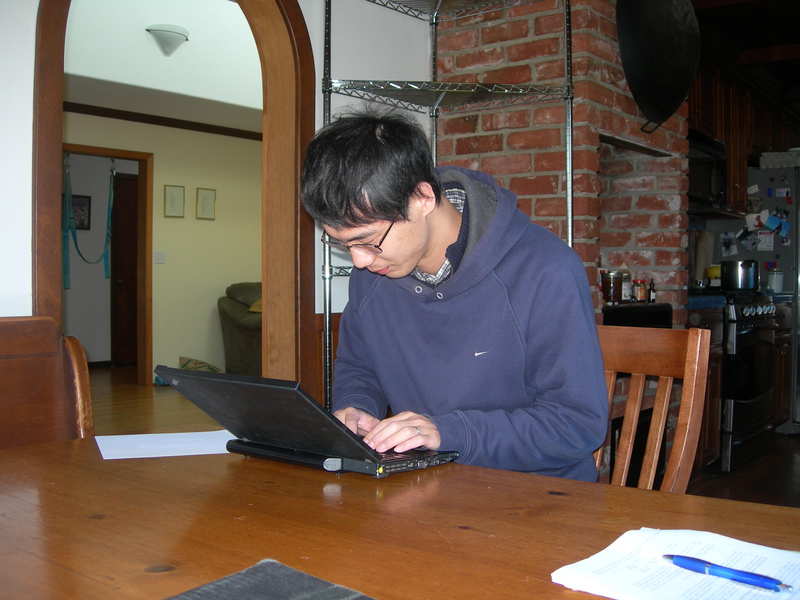 Op 19 December slaagt Nie en he advances to candidacy. Nog een paar jaar tot de felbegeerde PhD.
15 December
Sous vide workshop. Sous vide koken doe je in een warmwaterbad. De gebruikelijkste drie ziektekiemen sterven op 53 graden. Dus als je de watertemperatuur op 54 graden afstelt zit je snor. Om te zorgen dat al het eten in contact met het water is verpak je het vacuüm in plastic.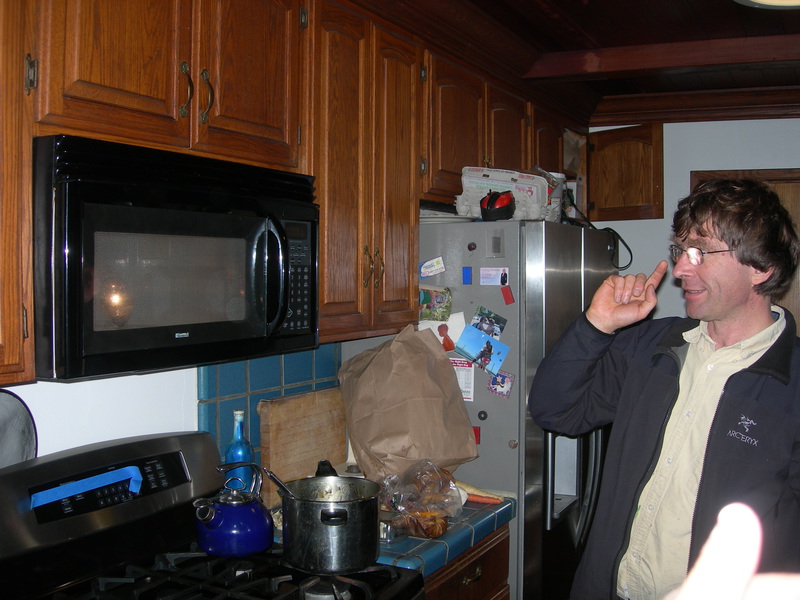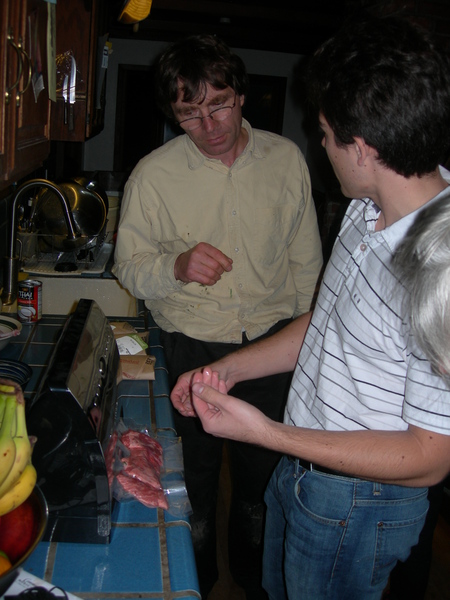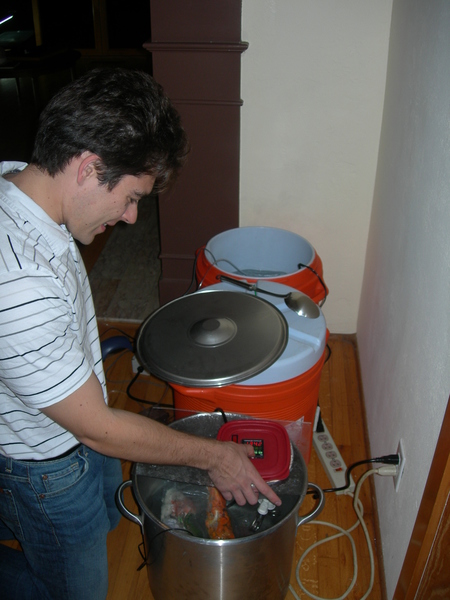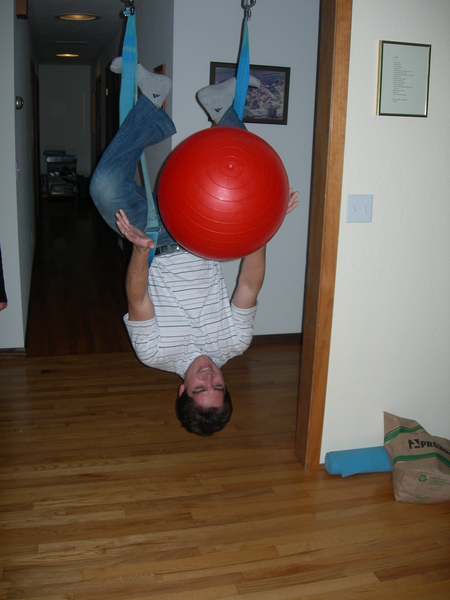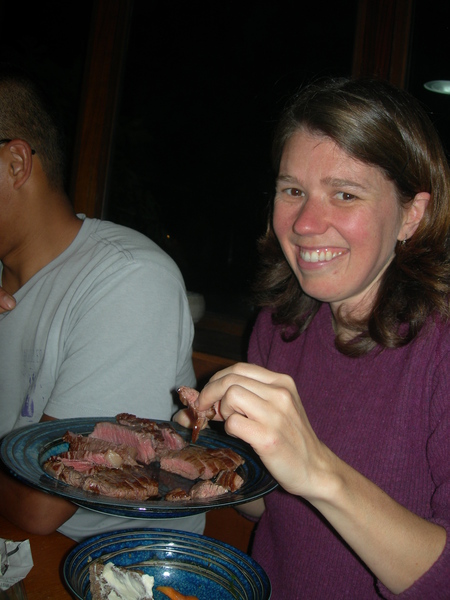 15 December
We strippen de curryplant om er poeder van te maken.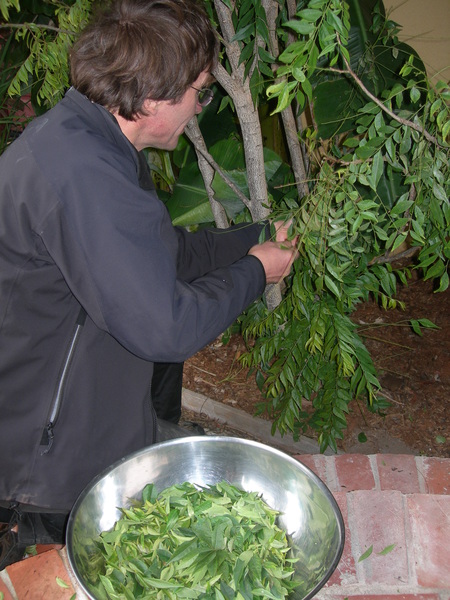 We planten 54 zaadjes van de curryplant. Deze gaan in de incubator, een bak die drijft in warm water.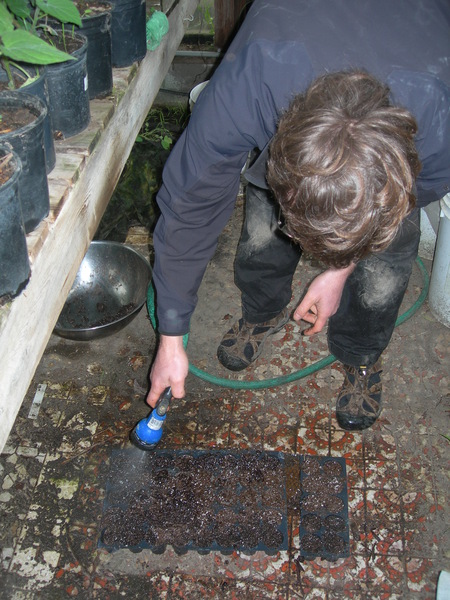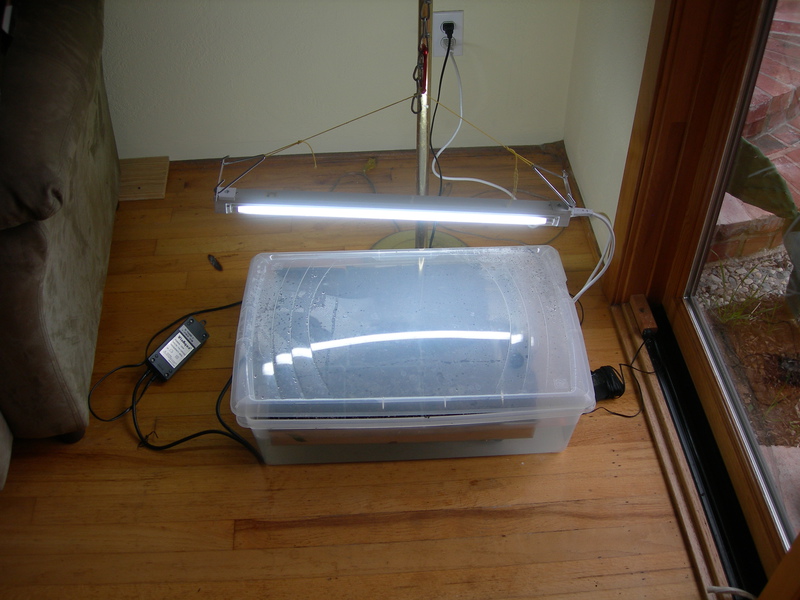 12 December
Bezoek aan de universiteit van Berkeley. Ik mag de auto van Manfred lenen. Ik geef daar een praatje over mijn recente werk aan adaptive regret. Daarna brainstormen met Peter Bartlett, Alan Malek en Yevgeniy Grechka. Dit worden mijn toekomstige collegas in Australië.
11 December
Manfred heeft een nieuwe hobby: smoothies. Hij blendert vanalles: melk, kefir of cocosmelk met cactus, kale (boerenkoolachtige), appel, gember, citrus, cacao, chilipeper, currybladeren, kaffir lime bladeren.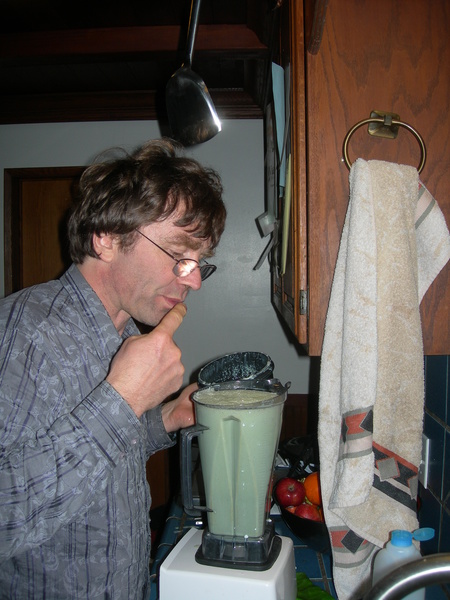 3-8 December
NIPS 2012 in Lake Tahoe. We rijden er heen met Manfred's auto. De avond vantevoren oefen ik met de sneeuwkettingen. Eerst een Youtube filmpje gekeken over hoe je die aanbrengt zonder hulpstukken en zonder de auto te verplaatsen. Op de oprit gaat het makkelijk. We komen (helaas?) onderweg geen sneeuw tegen. Wel wat mist. Het is nog vroeg in het seizoen. Lake tahoe ligt op ca 2000 meter.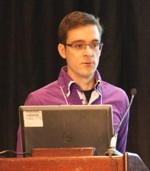 NIPS was een daverend succes. Ik mocht een 4 minuten poster spotlight geven in de grote zaal. En daarna van zeven uur tot middernacht hebben we onze poster gepresenteerd. Onze poster werd schandalig druk bezocht.
30 November 2012
Aankomst bij Manfred uit San Diego, na woestijnhike met Claas Willem. Manfred had een konijn voorbereid, en ging dat koken. Hij stopt dat in een gietijzeren pan, vult die op met groenten en kruiden en wat water, en zet het geheel dan in de oven.
Onze prangende opdracht was om de NIPS poster af te maken en te printen voor 3 December. Dat is gelukt.
Laat nooit een poster printen bij de Fedex Express print shop. Ze mogen dan 24 uur (dus ook op zondag) open zijn, maar hebben geen verstand van printen. Ze hebben mijn mooie kleurgradiënten verpest, en andere kleuren vernaggeld. Toen ik ontevreden was verontschuldigden ze zich, gaven aan dat ze niet begrepen hoe het kwam, en boden me meteen 10% korting aan. Dat is blijkbaar de standaard gang van zaken?!?
---